After nearly two years of construction, the Centralized Energy Recovery Unit for Off-gas Treatment (c-ERU) of BASF-YPC successfully started operation in January 2022. The inauguration ceremony was held on January 10, with attendance of the leaders from Nanjing Ecological Environment Bureau, Nanjing Jiangbei New Area, Nanjing Jiangbei New Material Hi-tech Park, and the relevant leaders and colleagues of BASF-YPC.
Being the first centralized off-gas treatment plant serving the whole production site in Nanjing, this c-ERU is one of the most state-of-the-art off-gas treatment projects in the chemical industry home and abroad. With its operation, off-gas streams from over 20 production plants at the Verbund site, are collected and centrally treated. The advanced technology transforms these off-gas streams into useful energy, thereby simultaneously reducing NOx, volatile organic gas (VOC) and carbon emissions. The c-ERU can produce up to 270,000 tons of steam annually, which will be used in the production plants of Verbund site. This will reduce the annual natural gas consumption with 5,760,000 cubic meters, and further reduce the carbon footprint of the site.
The project applied international advanced technologies and was executed with the highest quality and EHS standards. It was completed on time and within budget, despite difficulties and restrictions due to the ongoing pandemic and global supply chain issues.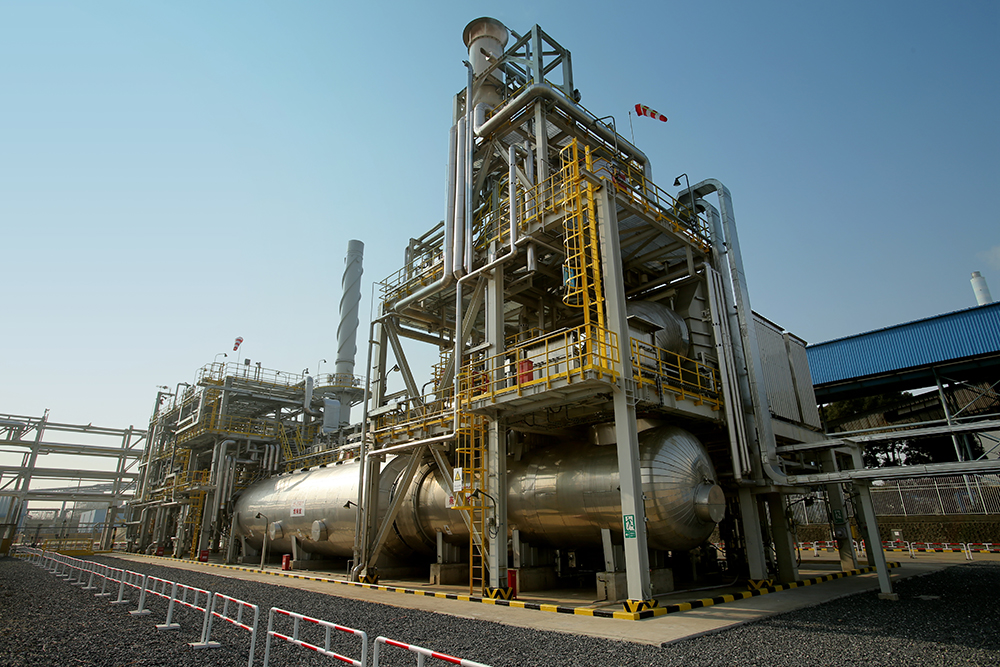 "Following our green power procurement in September 2021, the c-ERU inauguration marks another milestone on the Company's path of sustainable development," said Bram JANSEN, President of BASF-YPC, "It goes in line with the targets of our parent companies to realize carbon neutrality by 2050, and also complies with the national dual-carbon targets. With the successful startup of c-ERU project, BASF-YPC will spare no efforts to further contribute to the high-quality development route of the 14 Five-year Plan."
As an environmental protection project, c-ERU has received strong supports from the ecological environment departments of Nanjing and Jiangsu in project establishment and construction. It was evaluated as a high-quality project on reducing air pollution and carbon emission and was granted 60 million RMB subsidy. "BASF-YPC is a benchmark and role model of clean production in Nanjing and even in Jiangsu. C-ERU realizes pollutant treatment and energy recovery in the process of centralized waste gas management. This is a good project with both environmental and economic benefits, playing an important demonstration role in promoting source treatment, energy conservation and carbon reduction." said XIA Zhonglin, Chief Engineer of Nanjing Ecological Environment Bureau. 
The successful startup of c-ERU project not only reflects the persistence of BASF-YPC in environmental protection, but also lays a solid foundation for the Company on its path of energy conservation and sustainability, striving towards the goal of low carbon emissions and green development.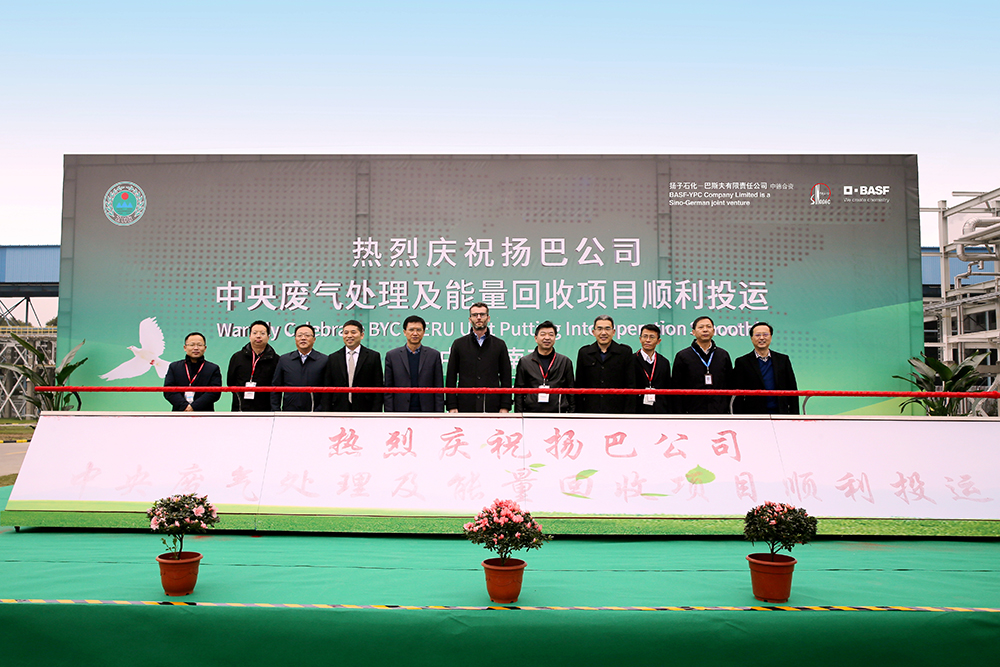 (Starting from left)
WANG Jiafeng, Head of Quality Inspection Station of Nanjing Jangbei New Material Hi-tech Park
TAN Tao, Chief of Safety and Environment Department of Nanjing Jiangbei New Material Hi-tech Park
XIA Xiangming, Vice President of BASF-YPC
CHEN Jianning, Director of Nanjing Jiangbei New Material Hi-tech Park
XIA Zhonglin, Chief engineer of Nanjing Ecological Environment Bureau
Bram JANSEN, President of BASF-YPC
WANG Yongming, Director of Ecological Environment and Water Supply Bureau of Nanjing Jiangbei New Area
SHAN Jianhua, General Manager of EHS, Engineering and Maintenance Division, BASF-YPC
ZHANG Yili, Chief of Business Promotion Department of Nanjing Jiangbei New Material Hi-tech Park
LIU Aisong, General Manager of Polymers and EOD Division, BASF-YPC
WANG Zheming, EHS Director of BASF-YPC