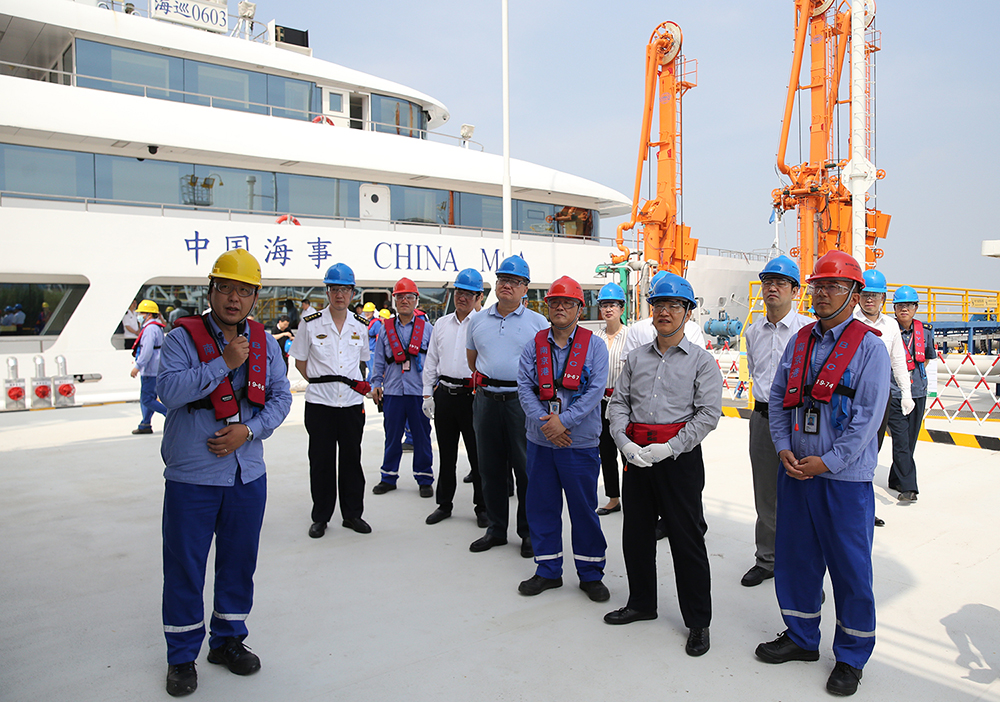 On the morning of June 8, 2020, a delegation led by Liu Xiaoming (second from right in the first row), Vice Minister of Transport had an inspection at the BYC Jetty area, accompanied by Lu Yongquan, Director of Jiangsu Provincial Department of Transport and Zhu Ruming, Director of Jiangsu Maritime Bureau.
Song Dongshuang, Head of BYC Port Office and Central Liquid Tank Farm Manager, made an introduction on BYC Verbund concept, Responsible Care, environmental protection, process safety, production control, double prevention, tail gas treatment, double-bottom double-shell ship selection mechanism and ship shore interface inspection, etc. According to Mr. Zhu Ruming, BYC is the first domestic chemical company to establish and implement ship selection standards, and to adopt the international standards of CDI and SIRE. Jiangsu Maritime Bureau chose BYC ship selection mechanism as a template to develop its ship selection mechanism of dangerous goods jetty in Jiangsu Province.
Liu Xiaoming praised BYC's advanced EHS technologies and measures, encouraged BYC to stick to green chemical industry, to ensure the safety of water transportation so as to guarantee sustainable development. 
BYC leaders like Vice President Xia Xiangming, Logistics Department Director Shen Weilin and EHS Department Director Wang Zheming participated in the inspection.