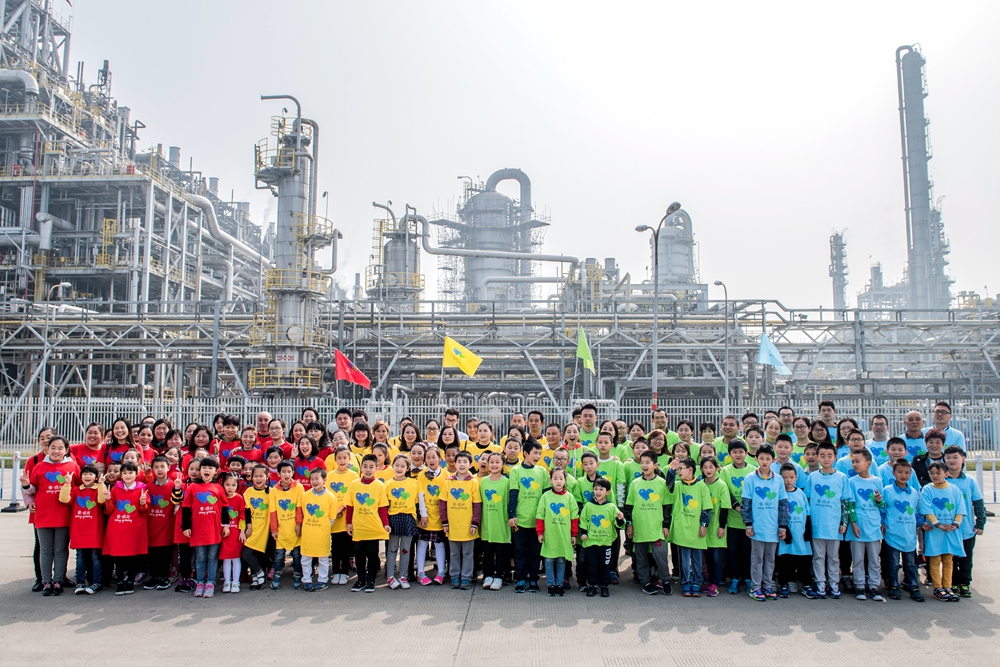 On October 22, 2017, BASF-YPC Company Limited (BYC) opened its door to the families from the neighborhood to the BYC Community Open Day themed as "Loving and Growing". Around 120 residents of 60 families from Changlu Street and Nanhua No. 3 Primary School were invited.
With a warm welcome to the guests, Uwe Kirchgaessner, BYC president, wished them to learn more about BYC through enjoying the half-day event after a brief introduction on the importance of chemical industry to the social development and human life. Then Zhang Minglong, Vice President, Xia Zhiwu, General Manager of Basic Chemicals and Chen Feng, EHS Director guided the visitors in a tour around the integrated plant site. In ERC, the residents listened to the instruction on BYC emergency response management system, followed by the show of the HAZMAT and the Environment Monitoring Vehicle. The visitors, especially the kids, were quite interested in what they saw and raised various questions. Through the tour, the residents gained a clearer understanding of BYC's rigorous, safe production system and its advanced energy saving measures for environmental protection.
Down in Z100 building, the guests were overwhelmed by the interesting games specially designed for the day, through which they experienced the importance of team cooperation, had a deepened understanding on environmental protection and got to know how chemistry is closely related to daily life through a range of fun filled activities. Besides, BASF Kids'Lab was also part of the Open Day. With the simple, safe hands-on experiment, the kids found the magic and fun of chemistry. "We had a wonderful day in BYC, learning so much knowledge!" said the parents. The kids enjoyed much fun in the course and one of them wrote down a wish "I want to become a chemical expert".
After the day in BYC, the residents got to know more about this world-class integrated chemical company, found their life closely related to the chemical products, learned the contributions the Company made to the society and they were deeply impressed by BYC's efforts in taking social responsibilities to be a good neighbor to the community. By opening the door, BYC got our neighbors aware of the operation and environment protection in the Company. The activity is one of the ways to enhance our communication with the community and helps to establish a harmonious relationship between BYC and our neighbors.